View all posts
Embracing Local Heritage and Autumn Joy at Fall Festivals
10/30/2023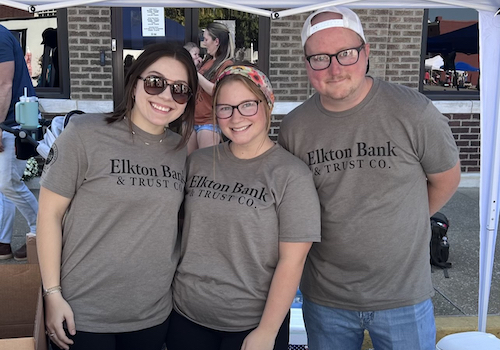 As autumn blankets the countryside in hues of orange and gold, local communities come alive with festivities that celebrate the rich heritage and seasonal splendor. Elkton Bank and Trust, a pillar of the Todd County community, was right in the heart of the action, participating in two remarkable local fall festivals. Rain or shine, their dedication to community engagement shone through, leaving a trail of smiles and cherished memories.
Guthrie Heritage Day: A Nod to Local Roots
On Saturday, September 16th, Guthrie, Kentucky, came alive with the annual Guthrie Heritage Day festival. This event, which showcases the town's deep-rooted history and culture, is a beloved tradition that brings the community together. Elkton Bank and Trust staff members joined in the celebration, despite the rainy weather.
The festival was an opportunity to connect with the bank's customers and the local community, celebrating the shared heritage that makes Guthrie special. Even with the weather not being ideal, the warm interactions and the chance to strengthen their bonds with customers made it a day worth remembering.
Elkton Harvest Fest: Savoring Autumn's Delights
Saturday, September 23rd, saw Elkton, Kentucky, light up with the Elkton Harvest Fest. This festival captures the essence of autumn and a sense of togetherness that comes with the season. Elkton Bank and Trust staff were set up in front of the Main Branch on the local square and made the most of this delightful day.
Mingling with customers and soaking in the autumn atmosphere, the staff at Elkton Bank and Trust truly embodied the community spirit. The event was a testament to the bank's commitment to being an integral part of the community, not just in financial matters but in shared experiences and cherished moments.
Spreading Smiles: Freebies for All
Elkton Bank and Trust knows that it's the little things that make a big difference. At both the Guthrie Heritage Day and Elkton Harvest Fest, they spread joy by giving away free water, koozies, and piggy banks for the kids.
The freebies were more than just promotional items; they were symbols of the bank's genuine appreciation for its customers and the community at large. Elkton Bank and Trust understands that it's the smiles on people's faces that truly matter.
Conclusion
Elkton Bank and Trust's active participation in the local fall festivals isn't just about being present at community events; it's about embracing the essence of community itself. Rain or shine, they were there to celebrate, connect, and give back.
As the autumn leaves fall and the air turns crisper, Elkton Bank and Trust's presence at these festivals stands as a reminder of the warmth and togetherness that defines their relationship with their community. It's a story of a bank that's not just about finances; it's about creating moments and memories that last a lifetime.