View all posts
Elkton Bank & Trust Joins the 10th Annual Bale Trail with a Twist of Creativity and Community Giving
10/30/2023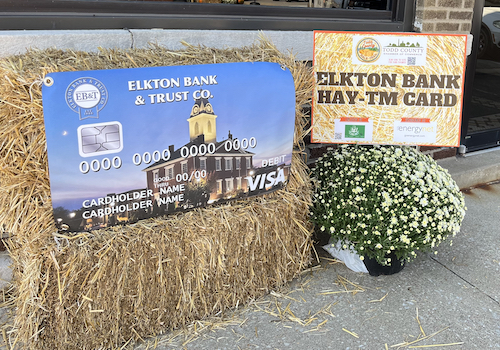 The Bale Trail in Todd County, Kentucky, is known for its imaginative hay bale creations that adorn the scenic landscape. This year, Elkton Bank & Trust participated in the 10th Annual Bale Trail by showcasing its artistic flair with a twist of community giving. All four branches of the bank participated in the event, proudly presenting their hay bale creations, titled Elkton Bank's HAY-TM Cards.
A Creative Twist on Tradition
The Bale Trail is a beloved tradition in Todd County, where local businesses, organizations and families use their artistic talents to transform humble hay bales into remarkable sculptures. It's an opportunity for the community to come together and celebrate their creativity while enjoying the charming countryside.
Elkton Bank & Trust decided to make a contribution to this year's event by incorporating their own distinctive touch. Instead of traditional hay bale sculptures, they used the platform to showcase their specialty Debit Cards in a fun way. This creative twist highlights the bank's dedication to both their community and their unique financial offerings.
Elkton Bank's HAY-TM Cards
The hay creations at each of the 4 branches showcased two specialty Debit Cards featured by Elkton Bank & Trust. These unique cards, named Elkton Bank's HAY-TM Cards, come with a promise: they give back to the community.
The Historic Courthouse Card: This card has a deeper purpose beyond financial transactions. For every Historic Courthouse Card purchased, a contribution is made to the restoration of the historic courthouse in Todd County. It's a meaningful way for cardholders to be a part of preserving their county's rich history.
The TC Rebel Spirit Card: Elkton Bank & Trust understands the importance of supporting education. For every TC Rebel Spirit Card sold, a portion of the proceeds goes back to the students of Todd County. This card reflects the bank's commitment to nurture the educational spirit of the community.
Conclusion
Elkton Bank & Trust's participation in the 10th Annual Bale Trail was a celebration of creativity and community giving. By presenting their specialty Debit Cards in a unique and artistic way, the bank demonstrated its ongoing commitment to Todd County's rich history and the future of its students.
As you stroll through the stunning displays of hay bale art along the Bale Trail, take a moment to appreciate Elkton Bank's HAY-TM Cards and the community spirit they represent. They're not just pieces of plastic; they are symbols of a bank's unwavering commitment to its community, its history, and its future. It's a story of banking with a heart.